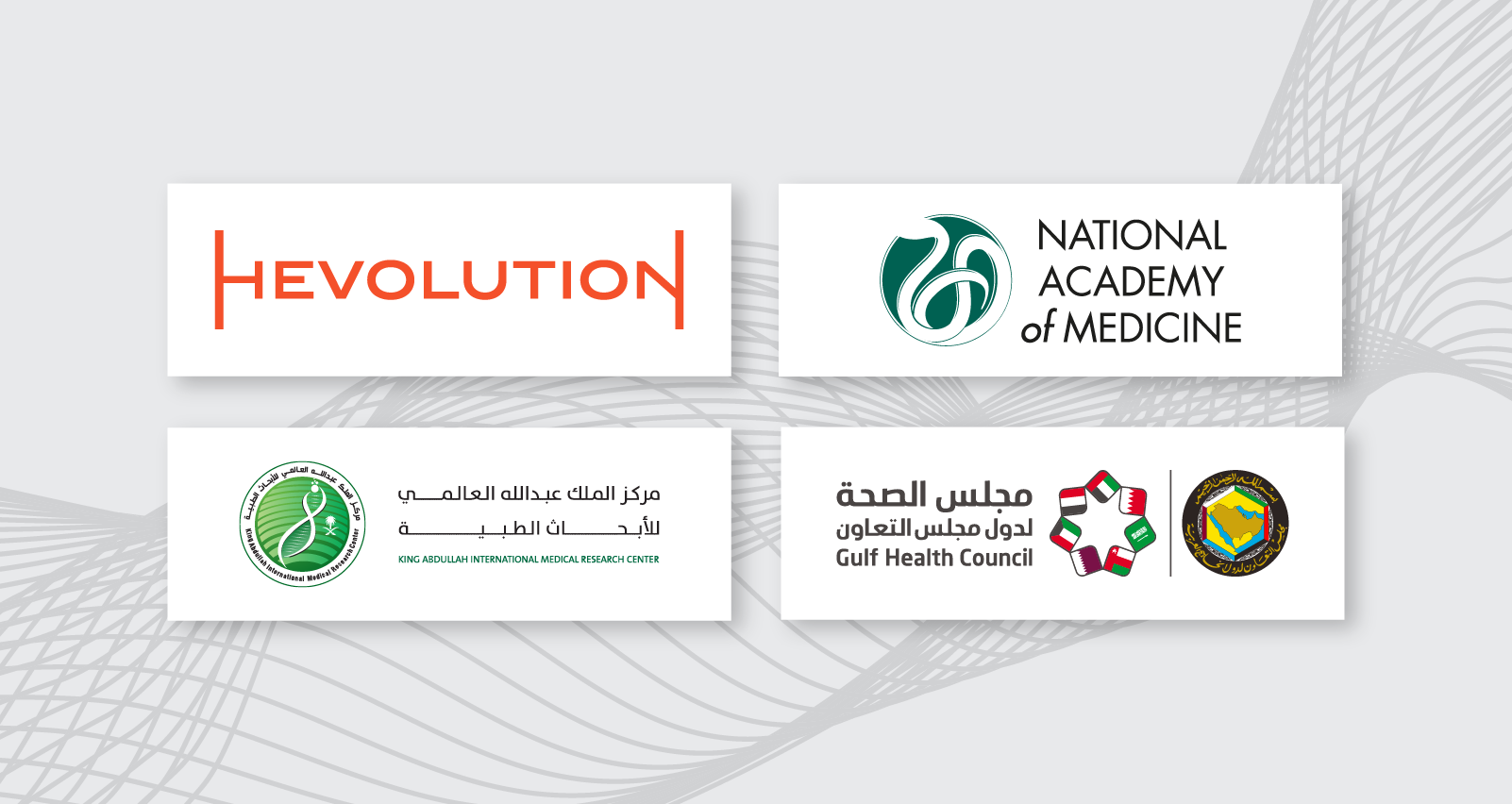 Hevolution Foundation, the US National Academy of Medicine, King Abdullah International Medical Research Center, and the Gulf Health Council to Co-Host Summit, "The Global Roadmap for Healthy Longevity: Enabling Longer, Healthier Lives in the Gulf"
Building on National Academy of Medicine (NAM) Events in Singapore and Washington, DC, Global Thought Leaders to Convene in Riyadh on 19 February to Chart a Roadmap for Healthy Longevity in the Gulf and Beyond
Riyadh, Saudi Arabia – 14 February 2023 – Hevolution Foundation, the US National Academy of Medicine (NAM), the Gulf Health Council (GHC), and King Abdullah International Medical Research Center (KAIMRC) are hosting a one- day summit in Riyadh, Saudi Arabia, The Global Roadmap for Healthy Longevity: Enabling Longer, Healthier Lives in the Gulf, in the Honorable Presence of His Royal Highness Prince Abdullah Bin Bandar Bin Abdulaziz Al Saud, National Guard Minister and Chairman of Hevolution's Executive Committee. Building on past regional summits in Singapore and Washington, DC, and on the publication of NAM's Global Roadmap for Healthy Longevity, the summit aims to explore challenges and opportunities in healthy aging, both globally and specific to the Gulf region.
Convening experts from around the world and the Gulf region, the summit will feature a variety of keynote presentations and panel sessions exploring opportunities associated with healthy longevity, identifying intergenerational strategies that the Gulf region can use to unlock the healthy longevity dividend, and starting to chart a roadmap toward healthy longevity specifically in the region. The summit will also feature a presentation of new data on the aging of populations in the Gulf.
"There are vast opportunities to be found in global aging if we sufficiently prepare our societies for the demographic shift and make investments that promote health, well-being, and one's sense of purpose," commented Dr. Victor Dzau, President of NAM. "As outlined in the Global Roadmap report, the vision of healthy longevity is when people live long lives with health; older populations are valued; and where there are opportunities to remain productive. Coordinated international initiatives, such as this Summit in Riyadh, propel us forward to contextualize the societal, human, and economic benefits generated by ensuring people can continue to meaningfully contribute to society."
Dr. Dzau is a confirmed speaker at the summit. Others include:
H.E. Bandar Al Knawy, MD, FRCPC, FRCP (EDIN) Chief Executive Officer, Ministry of National Guard Health Affairs President, King Saud bin Abdulaziz University for Health Sciences
Dr. Mehmood Khan, CEO of Hevolution Foundation and a member of the International Commission that co-authored the report
Prof. Linda Fried, Co-Chair of the International Commission and Dean, Mailman School of Public Health, Columbia University
Prof. John Eu-Li Wong, Senior Vice President (Health Affairs) and Isabel Chan Professor in Medical Sciences at National University of Singapore and Co-Chair of the International Commission
More speakers to be announced
"It was an honor to co-author the Global Roadmap for Healthy Longevity along with the other esteemed members of the International Commission," commented Dr. Khan. "Now, I could not be more pleased to work with NAM, KAIMRC, and the GHC to host 'The Global Roadmap for Healthy Longevity.' NAM's Healthy Longevity Global Grand Challenge and its Global Roadmap for Healthy Longevity are major international initiatives poised to make a real difference in the lives of countless people around the world as they are implemented globally and regionally. We are starting to pave a path to healthy longevity for people everywhere, now including the Gulf."
NAM's Healthy Longevity Global Grand Challenge is a global movement to improve physical, mental and social health and well-being for people as they age, with two components:
Dr. Bandar Al Knawy commented, "We are thrilled to host this important international summit at our facilities in Riyadh. To be a part of this critical conversation, with potential benefits for our population and others in the region and beyond, is very gratifying and we are eagerly anticipating the event."
The summit will be held on Sunday, 19 February from 9:00am to 5:00pm KSA time at King Saud bin Abdulaziz University for Health and Science, Riyadh Campus.
To register to attend, please write to: program@gcc-healthylongevityroadmap.com
For more information about the Global Roadmap for Healthy Longevity please visit:
About Hevolution Foundation Founded in the belief that every person has the right to live a longer, healthier life, Hevolution Foundation is a global catalyst, partner, and convener, on a mission to drive efforts to extend healthy human lifespan and understand the processes of aging. With a focus on aging as a treatable process, Hevolution Foundation aims to increase the number of aging-related treatments on the market, compress the timeline of drug development, and increase accessibility to therapeutics that extend healthy lifespan, also known as healthspan. A non- profit organization headquartered in Riyadh, with an annual budget of up to $1 Billion, Hevolution Foundation plans to open hubs in North America and other global locations to support a cutting-edge, global ecosystem of talent to propel aging and geroscience research forward and achieve medical breakthroughs to help humanity live healthier, longer.
Connect with Hevolution Foundation on LinkedIn, Twitter and at Hevolution.com.
About the National Academy of Medicine (NAM) The National Academy of Medicine, established in 1970 as the Institute of Medicine, is an independent organization of eminent professionals from diverse fields including health and medicine; the natural, social, and behavioural sciences; and beyond. It serves alongside the National Academy of Sciences and the National Academy of Engineering as an adviser to the nation and the international community. Through its domestic and global initiatives, the NAM works to address critical issues in health, medicine, and related policy and inspire positive action across sectors. The NAM collaborates closely with its peer academies and other divisions within the National Academies of Sciences, Engineering, and Medicine.
About King Abdullah International Medical Research Center (KAIMRC) A leading international institution in biomedical and clinical research, KAIMRC's purpose is to transform lab results into products that improve the quality of life, while training skilful researchers within the healthcare community. Some of KAIRMC's core research projects include the Saudi Biobank, the Cord Blood Bank, and the Research Trauma Project – all of which are leading to important advances in Saudi Arabia's most common diseases including diabetes, cardiovascular diseases, cancer, trauma, obesity, and hypertension.
About the Gulf Health Council (GHC) The Gulf Health Council was established in 1976 under the guidance of the Council of Ministers. It enjoys legal, financial and administrative independence, and the authority and capacity to achieve all of its objectives. Its membership is limited to GCC Member States, and also includes Yemen, which joined the Gulf Health Council in 2003. The Council works to consolidate relations between Member States, to strengthen integration and to promote the health of all citizens of Member States.
Media Contacts
For Hevolution Foundation: media@hevolution.com