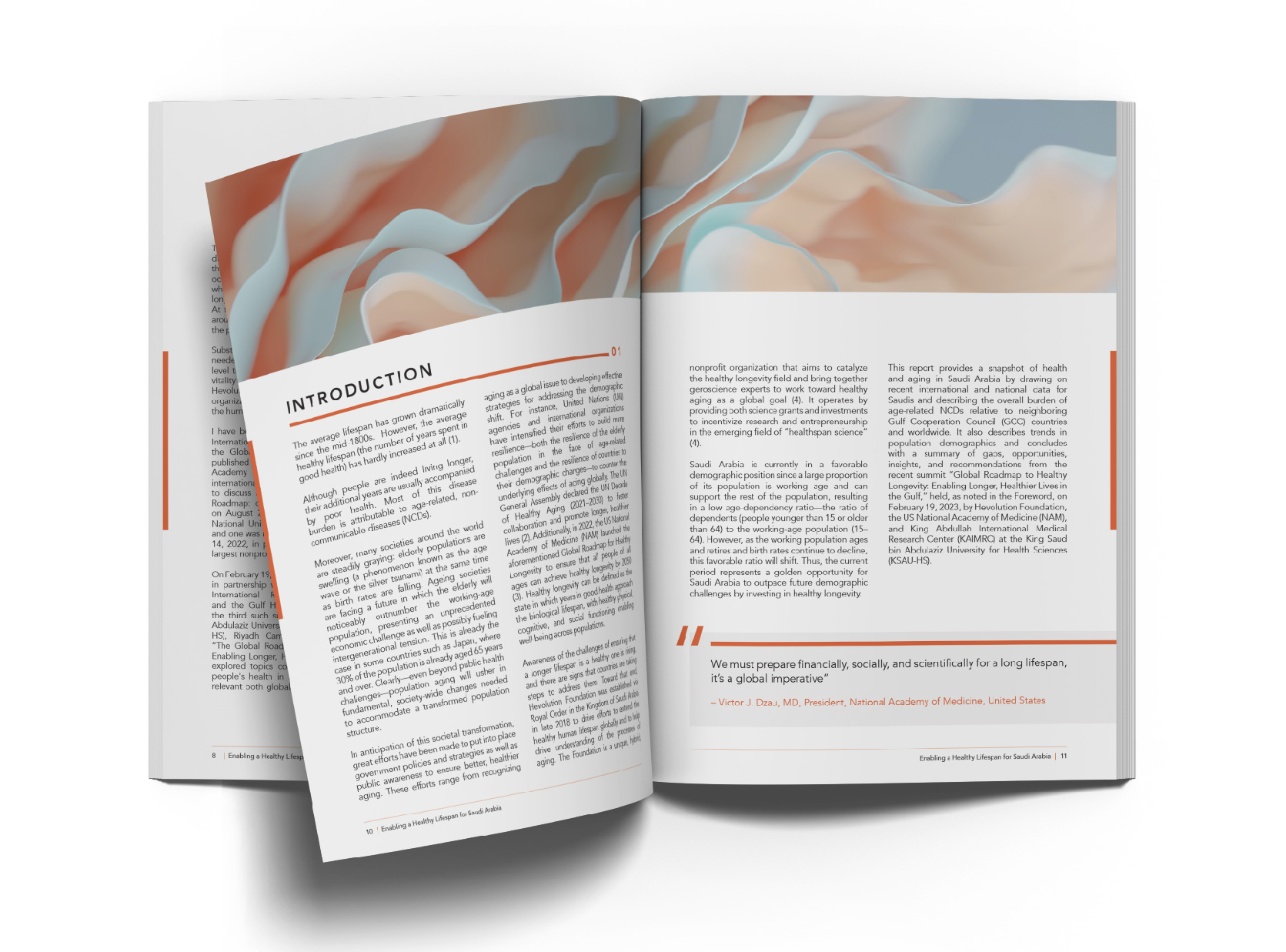 Hevolution Foundation Releases Report, "Enabling a Healthy Lifespan for Saudi Arabia"
Report shares insights, analysis and recommendations from event with the US National Academy of Medicine, King Abdullah International Medical Research Center, and the Gulf Health Council
Riyadh, Saudi Arabia – July 13, 2023 - Hevolution Foundation, a global non-profit organization that provides grants and early-stage investments to incentivize research and entrepreneurship in healthspan science, announces the publication of the highly anticipated report, "Enabling a Healthy Lifespan for Saudi Arabia."
The report distils the conclusions from "The Global Roadmap for Healthy Longevity: Enabling Longer, Healthier Lives in the Gulf," a summit hosted by Hevolution Foundation in partnership with the US National Academy of Medicine (NAM), the Gulf Health Council (GHC), and King Abdullah International Medical Research Center (KAIMRC) in Riyadh on February 19th. Exploring the themes of the summit and the Global Roadmap for Healthy Longevity from NAM, the report provides a snapshot of health and aging in Saudi Arabia and the larger Gulf Cooperation Council (GCC) region, drawing from national and international data, with a particular emphasis on the burden of ageing-related non-communicable diseases (NCDs) compared to other GCC countries. It also offers valuable insights, identifies gaps, and presents a set of five pillars: steps that societies in the GCC and beyond can take to start to pave the way toward healthy longevity.
Intended for multiple stakeholders, including governments, non-governmental organizations (NGOs), the scientific community, the business and investment community, and other decision-makers, the report covers a variety of interrelated topics, including:
Saudi Arabia's trend from life expectancy to healthy life expectancy
An exploration of the main cause of years lived in poor health and of premature deaths in the GCC
Risk factors for non-communicable diseases (NCDs) among older age groups in Saudi Arabia
A comparison of the timing of the transition into an aged society in various GCC countries, and ways that Saudi Arabia can prepare for this demographic transition
A discussion of the opportunities and challenges of population aging in the Gulf
"This report and its recommendations set the stage for transformative advancements in healthy aging initiatives and help establish the Kingdom of Saudi Arabia as a pivotal player in the global pursuit of healthy longevity," commented Dr. Mehmood Khan, Chief Executive Officer of Hevolution Foundation. "We are confident that 'Enabling a Healthy Lifespan for Saudi Arabia' will serve as both a resource and roadmap, in Saudi Arabia and throughout the region, as we chart a path toward healthy aging."
The report's five pillars are key recommendations, centered around these goals:
Ensuring integrated public health, social service, person-centred healthcare, and long-term care systems
Ensuring social cohesion, augmented by intergenerational connections
Leveraging relevant research, entrepreneurship and technology
Providing educational and training opportunities
Ensuring optimal physical environments, including infrastructure
Dr. Khan continued, "Our summit with our esteemed partners, and this resulting document, are just the beginning. By drawing on the insights of leading authorities from various fields, it takes a multidimensional approach to advancing healthy aging initiatives. Similarly, Hevolution is a catalyst, bringing key players with different ideas and approaches together to move the healthy longevity field forward in a decisive way, to the benefit of all. We are eagerly anticipating a collaborative approach to taking decisive action on the report's five main pillars, toward achieving healthy aging in Saudi Arabia, the GCC and worldwide."
"Enabling a Healthy Lifespan for Saudi Arabia" is available for access and download Here.
For more information about these healthy aging initiatives please visit: