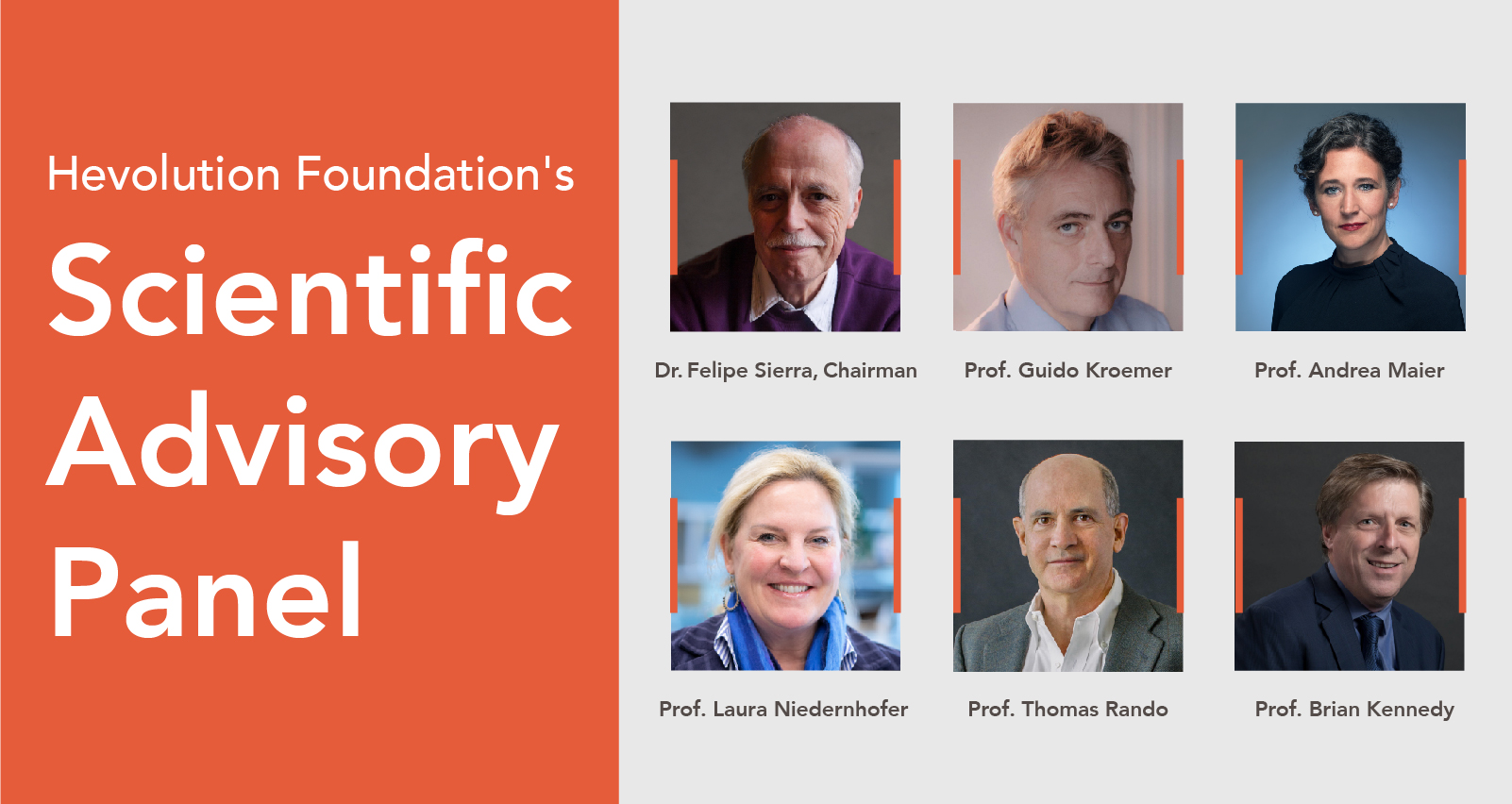 Hevolution Foundation Announces Formation of Scientific Advisory Panel of Renowned Experts in Healthspan Science and Geroscience
Riyadh, Saudi Arabia – 27 March 2023 – Hevolution Foundation, a non-profit organization that provides grants and early-stage investments to incentivize research and entrepreneurship in healthspan science, has formed a Scientific Advisory Panel (SAP) of experts in aging and geroscience research. The SAP members will provide input, guidance, and support for Hevolution's efforts to fund top healthspan research and geroscience worldwide.
"It is a true honor to welcome such an esteemed panel of scientists to an advisory role at Hevolution Foundation," commented Felipe Sierra, PhD, Chief Scientific Officer of Hevolution Foundation and Chairman of the SAP. "Made up of some of the most pre-eminent leaders in aging-related research, drawn from three continents, the Hevolution Foundation SAP will provide strategic counsel and validate our progress. We look forward to input and guidance from these outstanding individuals as we progress in our efforts to extend healthy human lifespan and understand the processes of aging."
Founding members of Hevolution's Scientific Advisory Panel include:
Brian Kennedy, PhD, based in Singapore, is a Distinguished Professor in Biochemistry and Physiology at the Yong Loo Lin School of Medicine at National University Singapore (NUS) and serves as Director of (1) the Centre for Healthy Longevity at the National University Health System in Singapore, (2) the NUS Medicine Healthy Longevity Translational Research Programme, and (3) the Asia Centre for Reproductive Longevity and Equality at the NUS School of Medicine. He was formerly President and CEO of the Buck Institute for Research on Aging and served as a professor there through 2020. Additionally, Prof. Kennedy serves as a Co-Editor-In-Chief at Aging Cell, a peer-reviewed scientific journal.
 
Guido Kroemer, MD, PhD, based in France, is Professor at the Faculty of Medicine at Université Paris Cité; Director of the research team "Metabolism, Cancer and Immunity" of the French National Institute for Health and Medical Research (INSERM); Director of the Metabolomics and Cell Biology platforms at the Gustave Roussy Comprehensive Cancer Campus in Paris; and Hospital Practitioner at the Hôpital Européen George Pompidou, Paris. He is President of the European Academy of Tumor Immunology (EATI), and director of LabEx Immuno-Oncology, a research consortium. Prof. Kroemer is also the founding editor of six journals, including Cell Death & Disease (Nature Publishing Group, Springer).
 
Andrea Maier, MD, PhD, based in Singapore,is Longevity Medicine Physician and Oon Chiew Seng Professor in Medicine, Healthy Ageing and Dementia Research, and Director of the Centre for Healthy Longevity at National University of Singapore, as well as Professor of Gerontology at Vrije Universiteit Amsterdam (the Netherlands). She was previously head of Geriatrics at the Vrije Universiteit Medical Center in Amsterdam, and before that she served as Divisional Director of Medicine and Community Care at the Royal Melbourne Hospital, Australia, and Professor of Medicine and Aged Care at the University of Melbourne. She is Founding President of the Healthy Longevity Medicine Society and serves as a selected Member of The Royal Holland Society of Sciences and Humanities and advisor to the World Health Organization evaluating the United Nations Decade of Healthy Ageing.
 
Laura Niedernhofer, MD, PhD, based in the United States, is Professor of Biochemistry, Molecular Biology, and Biophysics and Director of the Institute on the Biology of Aging and Metabolism (iBAM) at University of Minnesota. She was formerly Associate Professor of Molecular Medicine at the Florida campus of Scripps Research Institute and before that was Associate Professor of Microbiology and Molecular Genetics at University of Pittsburgh. Prof. Niedernhofer was the recipient of a Glenn Award for Research in Biological Mechanisms of Aging, and the Vincent Cristofalo Rising Star Award in Aging Research from American Federation for Aging Research (AFAR).
 
Thomas Rando, MD, PhD, based in the United States, is Director of the Broad Stem Cell Research Center at the University of California, Los Angeles (UCLA) and Professor of Neurology and Molecular, Cell and Developmental Biology at UCLA. Formerly, he was a Professor, Department of Neurology and Neurological Sciences at Stanford University School of Medicine. At Stanford, he was Director of the Glenn Center for Biology of Aging Research and Deputy Director, Stanford Center on Longevity. Dr. Rando received the US National Institutes of Health Director's Pioneer Award, and among other awards, a Transformative R01 based on his work in stem cell biology and the biology of aging. Dr. Rando is a member of the US National Academy of Medicine and the American Academy of Arts and Sciences.
An independent panel, the SAP serves a purely advisory role, with the goal of enriching Hevolution's engagement with the scientific community and helping the organization to enhance and validate its strategy and scientific initiatives.
For more information on Hevolution's Scientific Advisory Panel please visit: //hevolution.com/en/w/scientific-advisory-panel